accommodation:
Binna Burra, Canungra, Beechmont and Lamington National Park
Nirvana Wellbeing Retreat, located in Gold Coast Hinterlands, is the home for accessible mind-body solutions which boost the individual's capacity to restore health. There you will find yourself amidst all that is serene and spiritual. Their vision is of Living Peace. Their mission, to help others heal and live peacefully, lovingly, and joyfully with their Truth. And the team is there to connect people, practices, and inspiration, and have a lot of fun and healing doing it.
At Nirvana Wellbeing Retreat they offer four main types of retreats:
– Meditation Retreats are silent retreats.
– Nirvana Wellbeing Retreats' popular Detox Retreats are ideal for resetting and assisting their overwhelmed bodies to expel toxins.
– Ayurvedic Cooking Retreats set you up on a path to cooking sumptuous plant-based meals while discovering the secrets of ayurvedic kitchen.
– Time-Out Retreats enable you to restore, rejuvenate and rebalance, where your biggest to-do is: nothing.
Find healing, happiness and living peace at Nirvana. Let their sanctuary become yours.
LOCATION:
87 Binnaburra Rd, Beechmont
4211, QLD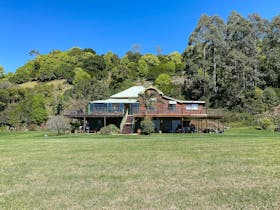 https://www.visitscenicrim.com.au/wp-content/uploads/2018/02/visit-scenic-rim-logo.png
0
0
Visit Scenic Rim
https://www.visitscenicrim.com.au/wp-content/uploads/2018/02/visit-scenic-rim-logo.png
Visit Scenic Rim
2021-12-06 03:42:04
2021-12-06 03:42:04
Nirvana Wellbeing Retreat