events:
Kalbar | Roadvale | Harrisville | Peak Crossing and Rosevale
Submit your event here
Spartan Race is an elite series of adventure races and the fastest growing in the world with events held across 35 countries. Founded in 2010, over one million participants have already competed in a Spartan Race and this number will double in the next 24 months.
The Australian series has captured the imagination of the nation as elite and social participants of all ages challenge themselves to complete the course. Over 30,000 racers will take part in the 2017 series.
The individual challenge of strength, team work, mud and sweat brings a sense of accomplishment and adds the fun factor back into fitness for all who cross the finish line.
Spartan Race is an event designed to test elite athletes and unleash the social gladiator in everyone. The obstacles are challenging, the course tests you and often your body and mind will ask you to give up but nothing will match the sense of achievement, accomplishment and joy as you cross the finish line to receive your first Spartan Race medal.
Whatever your goal, you CAN do it. Believe in yourself and go for it.
LOCATION:
Mount Flinders Road, Peak Crossing
4306, QLD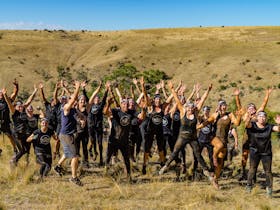 https://www.visitscenicrim.com.au/wp-content/uploads/2018/02/visit-scenic-rim-logo.png
0
0
Visit Scenic Rim
https://www.visitscenicrim.com.au/wp-content/uploads/2018/02/visit-scenic-rim-logo.png
Visit Scenic Rim
2018-04-28 14:10:24
2018-04-28 14:10:24
Spartan Race Australia - Peak Crossing